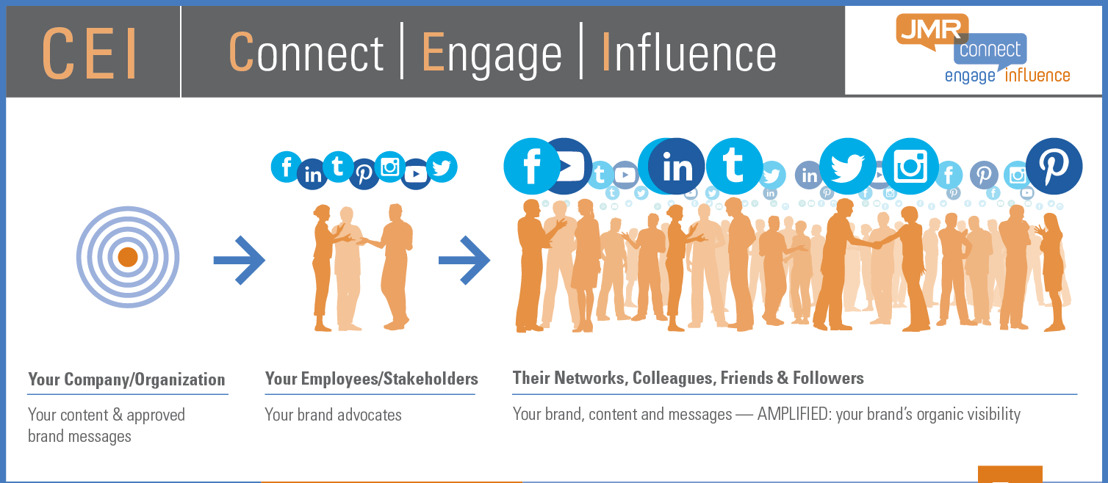 Who Speaks for Your Brand in the Marketplace?
Converting brand excitement into sales: building your business through employee advocacy
Who speaks for you in the marketplace? If it's your ad agency, you're at least getting the word out. But you can go much further by getting the people who work for you to carry that same message, only in a less scripted way your current and potential customers will instantly find more authentic.
Imagine for a minute that your sales team had the ability to exponentially amplify visibility for case studies, whitepapers, blogs and other strategic content with prospects and partners through a simple click of their mouse?
Quantifying Engagement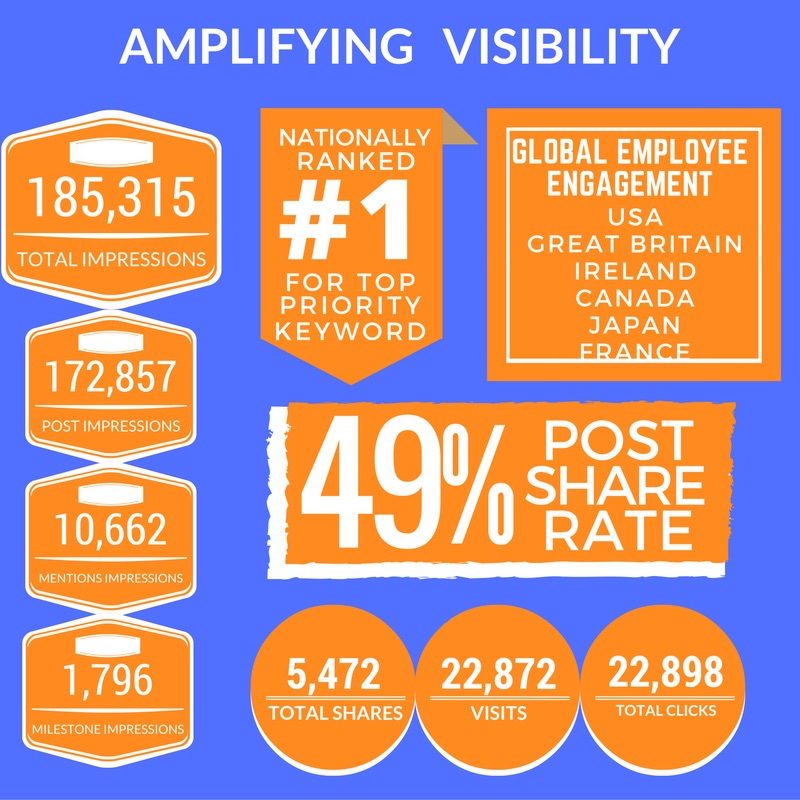 JMRConnect: Employee Advocacy campaign results (one client)
That is the power of employee advocacy programs that make it easy and rewarding for people to share brand-approved messaging and content on social media, which, per an Inc. article, results in a 5x increase in web traffic and 25% more leads.
That might sound like a point of debate, until you consider this: Only 15 percent of people trust recommendations from brands, while a whopping 84 percent trust recommendations from people they know, and sales representatives using social media outsell 78% of their peers, according to WeRSM.
Starting to see the connection?
Social selling through amplifying content visibility - organically
Employee advocacy makes an impact where other advertising methods can't, largely because of the potent way it mixes high-tech social media with the timeless truth of word of mouth. 77 percent of consumers are likely to make a purchase after hearing about the product from someone they trust (Source: Nielsen).
Success stories from across the business world show that a peerless employee advocacy program needs to:
Engage, inform and empower employees as brand ambassadors

Make it simple to share content with one click via LinkedIn, Twitter and other social platforms
Build corporate brand visibility. Content shared by employees receives eight times more engagement than content shared by brand channels (Source: Social Media Today).

Help employees build personal thought leadership

Work within a potentially lean budget

Fit well in the busy schedules and lives of employees
One of our client's highly effective social media employee engagement campaign is built on JMRConnect's platform known as CEI: connect, engage, influence. CEI made it easy and rewarding for employees to organically share earned media, thought leadership and corporate messaging with colleagues, customers, prospects and partners.
Key functionality includes the following:
Company-piloted social media. Admin designs post, populated social messages, anchors the content via URLs and includes custom images
Easy content sharing. One quick click takes content viral, extending earned media value while promoting approved brand messages on multiple channels.
First-person feel. Posts shared through CEI appear as first-person recommendations, not as advertisements or promoted content.
Budget friendly. CEI is a low-cost solution for elevating brand and fostering customer/employee/influencer engagement.
Making it fun. Gamification incentivizes and reward brand advocates, with the "standings" tracked on a leaderboard.
Secrets to a Successful Employee Advocacy Program
Train your employees. On the admin-facing side, JMRConnect's CEI platform takes the guesswork out. And on the staff side, buy-in begins when you give employees a sense of how they represent you in the marketplace. The responsibility that rests with them goes far beyond getting into a Twitter mindset. They are nothing less than "brand ambassadors," a role you must teach them to live up to and live into.
Tap their passion. Content shared by employees receives eight times more engagement than content shared by brand channels (Source: Social Media Today). While all employees can take part in an advocacy program, some will naturally get more involved than others. Those who show the most enthusiasm can in turn be tapped for ideas on how to enhance the company's advocacy efforts in creative ways.
Build the brand. It's one thing to set the gang loose to light up social media with positive stories. But everything should circle back to the overarching goal of all successful employee advocacy programs: The content serves to build the brand. That might be in direct ways (news about your offerings), indirect ways (your company's work in the community) or serving as a trusted source (highlighting your blogs or other resources for consumer education). But always, the message must align with your company's values and goals if employee advocacy is to have the greatest impact. Remember: Brand messages are re-shared 24 times more frequently when distributed by employees versus the brand.
Pick the user-friendliest platform. Teaching employees to utilize a complicated system will only add to their stress level. The cornerstone of any employee advocacy program rests with a system that's so simple to understand and use, it weaves seamlessly into the social media lives of your staff. Half of them are already posting about your company and 98 percent use at least one social media site; why not bring that energy into sharper focus?
Putting it All Together: Employee Advocacy Equals Influencer Electricity
Today, organic reach is limited—and that has led companies to spend more on paid social media and influencer marketing to augment their organic efforts. Yet the breadth and scope of the aforementioned client program offers proof positive of an often-overlooked fact: The most influential marketers of all could be those colleagues sitting in your line of sight.
The client's experience serves as a great reminder that beyond a bolstered bottom line, employee-driven social media grows value in other ways. By layering a robust employee advocacy program over external social media marketing efforts, you affordably multiply your company's efforts in the digital realm. Indeed, employee advocacy represents the final frontier for social media marketing.
In the final analysis, effective employee advocacy not only empowers staff and drives business: It also creates an amazing feedback loop where the very workers who generate the new revenue are more likely to stay on, a huge plus given today's high-priced chase to attract and retain A-list talent. Employees of socially engaged companies are more likely to stay at their company, feel optimistic about its future and believe their company is more competitive (Source: Altimeter & LinkedIn Relationship Economics 2014).
As you get ready to take the next step, consider the view from all sides. Nearly 31 percent of high-growth firms have a formal employee advocacy program, more than double the average of all other firms. And almost 86 percent of advocates in a formal program said that their involvement in social media had a positive impact on their career (Sources: Hinge Research Institute and Social Media Today).
Put another way: Your firm grows. Your employees grow. Your profits grow. That's more than enough reason to hit the "like" button, over and over again.
Mostafa Razzak is CEO and principal for JMRConnect, an award-winning public relations, digital communications and stakeholder engagement firm.