RFID Journal Reports on Smart Waste Management technology from Nordsense
Partnership to Bring Intelligence to Commercial Waste Bin: Ingram Micro is employing Nordsense technology to identify waste containers' fill levels using laser optical sensors, then is transmitting data via a cellular connection and using that information to provide waste collection management to collectors and cities, in order to improve collection routing and reduce energy consumption.
Information technology company Ingram Micro is partnering with Internet of Things (IoT) solutions firm Nordsense to offer a waste-management system that automatically detects the level of waste in each of a city's bins, as well as the conditions in and around every bin, in order to streamline waste collection. The company is currently in conversations with several cities to begin deploying the technology in Canada and beyond.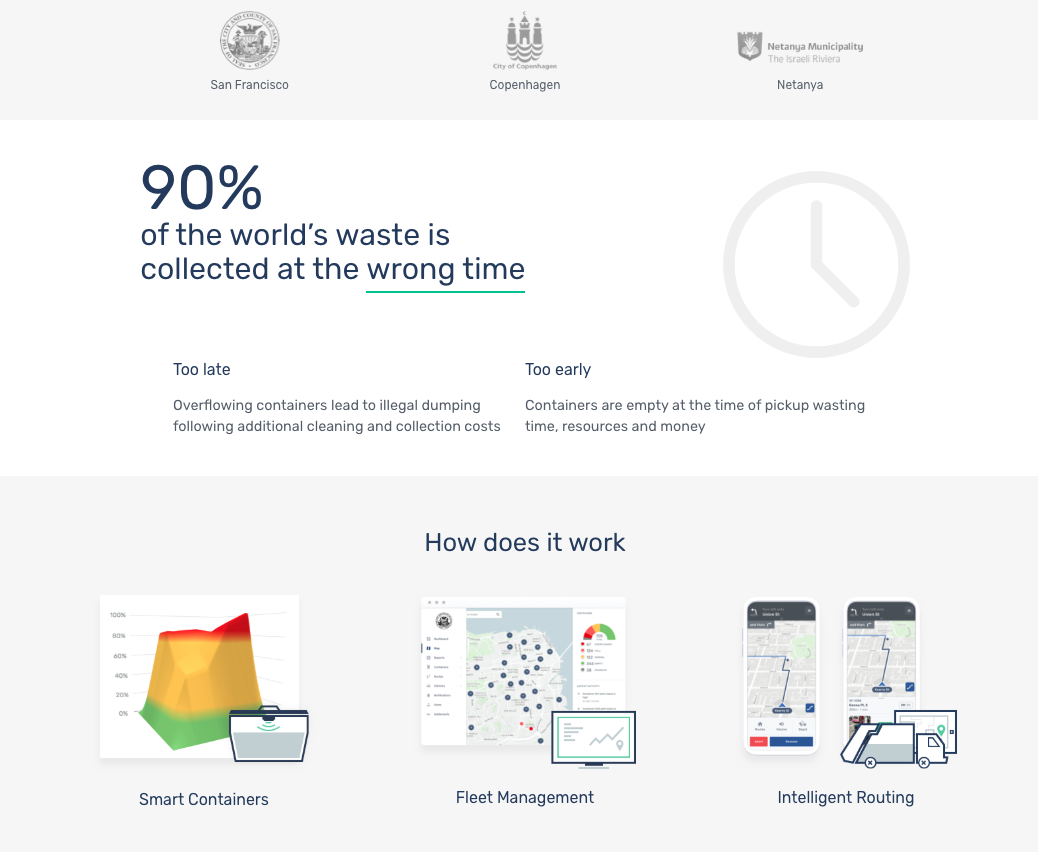 Ingram Micro offers waste-management systems that include software to store and manage data about a waste-management company's or city's commercial customer bins for dispatching, operations and billing purposes. The company's software is aimed at helping its customers better manage the status of bins and their scheduled emptying by waste-management employees
Nordsense's IoT solution brings a real-time view into the contents of a waste bin, including its waste fill level and whether that bin requires attention. Although there are other IoT sensor-based technologies available in the waste-management market, the Nordsense solution offers highly precise data about the level of waste in any given container, says Savio Lee, Ingram Micro's senior business and technology lead for digital transformation. Ingram Micro has begun partnering with Nordsense to offer its sensor-based solution to existing and new customers. "When it comes to the IoT," Lee says, "we are the ecosystem aggregator and orchestrator," using data from the Nordsense technology and AI-based software.
Nordsense launched in 2016 with its wireless, sensor-based system to make waste collection greener, cleaner and smarter, according to Manuel Maestrini, the company's founder. While Nordsense opened its doors in Denmark as a spinoff from research conducted by the University of Copenhagen, it offers its solution to cities such as the San Francisco Public Works Department, and has offices in the United States and in Europe.
The IoT solution consists of a sensor device developed by Nordsense's engineers, with a built-in cellular radio to transmit data to the cloud-based software, as well as laser optical, temperature and accelerometer sensors. The device is attached to each bin's cover, facing into its interior. The laser optical sensors measure the waste fill level more accurately than traditional infrared or ultrasound sensors used in other solutions, Maestrini explains.
The system is designed to calculate the level of waste, even if materials are unevenly distributed, which could fool traditional sensor systems. A built-in multipoint laser sensor aims its beam into the container, then transmits data to its cloud-based software via a cellular connection. The software interprets the results in order to determine the surface level of the waste. By leveraging artificial intelligence in the cloud-based software, Maestrini says, the system can create a 3D granular view of whether or not the bin is full.
Story continues...
Each device includes a sensor for monitoring temperatures to detect problems, such as a fire, in or around the bin. This could trigger the unit to send an immediate transmission to software, which would, in turn, alert authorized parties that a problem has occurred. The built-in accelerometer can detect movement as well, so if a bin tips over or is moved, a similar alert can be issued. Typically, the sensor stores data locally, and the built-in cellular unit sends that information to Nordsense's platform once daily. In this way, the device's battery has a typical lifetime of six to seven years.
Ingram Micro began working with Nordsense approximately two months ago to build the IoT technology into its own solution. "They're a great fit for what we see in opportunities around smart waste management," Lee states. Nordsense offers an API, so Ingram Micro provides its own software-as-a-service (SaaS) that can be integrated with the Nordsense data and can then provide route optimization and other services. Its data analytics can help waste management better schedule service calls, Lee says. If, for instance, the system determines that a bin has very little waste inside, a dispatcher can leave that bin off the waste-management crew's schedule.
With the Nordsense system, Maestrini reports, Micro Ingram can enable its customers to transition from static scheduled routes to data-driven pick-ups, thereby preventing excessive fuel use and time on the road for drivers and vehicles. With historical analytics, the data enables managers to make predictions regarding which bins may require collection either more or less frequently, as well as the locations at which an additional bin might be needed, or where fewer bins would suffice.
Nordsense also provides an app that can run on any tablet or mobile phone, allowing drivers to view data in real time as they go about their route. The app enables managers to view a vehicle's location using the GPS data from the device, as well as the status of waste bin collection, in real time, so that they can understand the progress of their routes.
Maestrini predicts that the solution will allow waste managers to optimize their waste-collection costs by 50 percent, while also helping cities to reduce their environmental impact. Additionally, he says, the company has found that the IoT system leads to less illegal dumping, since a bin that appears neglected tends to attract bad behavior. Once a bin overflows, for instance, people have a greater tendency to start dropping refuse on the side of that bin. If it is regularly emptied, however, they are less inclined to do so.
In the future, Nordsense may also sell its solution for the management of residential bins in addition to the commercial waste-management market.