Nordsense Explores How Smart Waste Management Technology Benefits Multi-Site Campuses
If you manage facilities for a large private organization, you know that more branches equal more problems.
Whether you represent a college with multiple campuses, a network of hospitals and clinics, hotels or resorts with sprawling properties, every public-facing aspect of your business is highly scrutinized.

Public waste bins with overflowing trash are not only unsanitary, but also the stuff bad dreams are made of. With endless foot traffic from both staff and visitors, sanitation is a constant battle to empty your overflowing waste bins.
What's more, waste management isn't your only responsibility and most likely not a core competence. You can't simply throw money and workers at the problem, because this detracts from your bottom line. Instead, you need to understand the most cost-effective resources to keep your bins mostly empty and not spilling garbage onto streets and sidewalks.
No pressure, right?
Understanding the Dimensions of Multi-Site Waste Management
When it comes to multi-site waste management, emptying waste bins is just one part of the problem. To understand the many variables for which facility managers must account, it is important to look at the many things that can – and often do – go wrong.
First, there's foot traffic to consider. There tend to be a lot of people walking around at a college or corporate campus. Not only do these people need to dispose of their trash, they also physically get in the way of trash collection vehicles and crews (and vice versa). Garbage haulers of any size rarely add to the aesthetics of public areas, not to mention the odors they bring to their routes.
Second, amusement parks, stadiums and other expansive recreational areas with high daily foot traffic present additional challenges for facilities management. Trash collection crews, for example, must not only pay diligent attention to overflowing bins and impromptu spills, but also avoid guests while carrying refuse.
Whether traveling by foot or cart, sanitation teams must navigate away from crowds.A family of four that paid no less than $500 – and upwards of $1,000 – to attend a professional football game, is going think twice about coming back if they had to dodge garbage bags while walking from concession to their seats.
Lastly, the problems above are compounded by the fact that they take place across multiple sites. This variable raises a number of questions on vendor selection.
Should each site work with a separate waste management provider local to their area? This makes waste pickup more convenient but adds to the cost of removal. On the other hand, the entire organization can work with a single provider, but this means that waste collection services may be less proactive as each hauler or offsite clean-up crews must be dispatched from a central location.
How can multi-site organizations minimize inconveniences to workers and customers, cope with seasonal variations in waste generation, and keep costs manageable?
Cutting Down Waste is a Great Start – but it's Not Enough
The average college student generates 640 pounds of solid waste per year, with waste totals spiking towards the end of the school year when students move out of their dorms. It may seem like it's impossible to chisel that amount of waste down to a more manageable number (and remove it from your premises in a timely manner) but it's actually quite possible to affect significant change, quickly.
A number of densely populated businesses and universities have been able to dramatically reduce their waste generation; Microsoft, for example, diverted 90 percent of its waste away from landfills across approximately 500 acres of campus.
Generally, the first step towards making waste pickup more economical is to divert as much waste as possible towards recycling. Recyclable and compostable packaging for food is a must. Food and food packaging make up about 45 percent of waste in landfills, so every scrap of food that you can redirect to a compost bin helps make your waste management job easier.
In addition, reuse programs are a huge benefit for waste pickup programs. University students often leave behind useable clothes, bedding, and other materials, while office workers deal with unused office supplies, used (but out-of-date) computers, furniture, and more. Instead of being diverted to a waste bin or dumpster, these materials can be donated or sold online.
Despite your ability to minimize land filled waste by a large amount, you still need to move what remains. Even the materials that are diverted to recycling must be moved off campus.
Smart waste management will help you remove these materials in an efficient manner.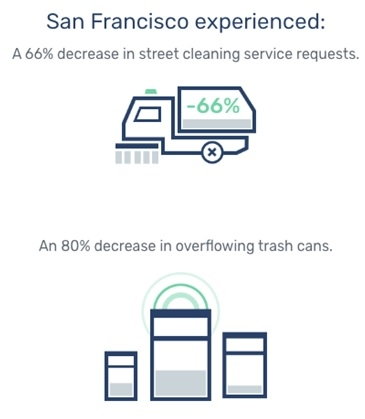 Smart Waste Management Helps Multi-Site Campuses Clean Up
With multi-site organizations, scheduling and efficiency management problems multiply as issues rarely affect a single location.
Fortunately, smart waste management harnesses data analytics to help solve this problem. At Nordsense, we start by instrumenting your waste bins with IoT-enabled, optical sensors, each of which comes equipped with a 256-pixel resolution that produces 3D depth maps of a bin's content. This dramatically increases sensor accuracy and provides multiple reference points, rendering false positives a thing of the past.
Nordsense sensors can detect movement and orientation within the container, triggering alerts when bins are full or about to overflow – or if they're empty. This insight also allows waste management teams to detect when the containers are being emptied, providing a clear line of sight into to whether the services you are paying for are being performed. Empowered with such intelligence, trash haulers can prioritize the bins that are most in need of attention, saving fuel, manpower and money.
In the case of amusement parks and stadiums, placing smart waste management sensors in bins can provide custodial crews with intelligence on the most optimal routes for avoiding pedestrians.
Optimizing routes between various bins allows sanitation supervisors to send haulers to high-priority areas first, guiding drivers through their daily collection routes with turn-by-turn directions to pick up only the containers that need to be emptied. Drivers are notified and re-routed in real-time when new containers become full or when a customer requests a new on-demand pickup.
For private organizations, it's imperative to use smart waste management platforms that provide advanced route planning - simply define the logic rules of your business and our platform will generate the best way to complete the job.
With intelligent routing, fleet management and smart waste bins, you'll be able to decrease overflowing waste bins by up to 80 percent, reduce overall waste collections by 50 percent, and reduce carbon emissions by up to 50 percent as well. Working with Nordsense empowers organizations with multi-site campuses to drastically reduce the amount of time and money they spend on waste management, while providing comprehensive solutions that support sustainability.
Click here to view the full article on CityBizList
Nordsense harnesses artificial intelligence (AI), machine learning and Internet of Things (IoT) technology to track and diagnose daily waste management workloads, uncovering trends and inefficiencies with real-time insights on ideal container placement to prevent bins from overflowing, and to course-correct routes and schedules to optimize hauler efficiency.
Unlike offerings that require customers to purchase or rent expensive 'smart bins', Nordsense IoT-enabled sensors fit existing trash bins of all sizes, from small city bins to large underground containers, saving municipalities both time and money.Software as-a-service (SaaS) pricing eliminates the capital expense and risk of replacing existing infrastructure; the company's smart waste management solutions are available for a low, flat monthly subscription fee, which includes all device-related costs.
To learn more, contact Travis Sales at [email protected].