How BFSI Use Natural Language AI and RPA for Efficiency and Accuracy in Financial Reporting and Fund Commentary
By Mark Goodey, Managing Director & Innovation Strategist, Arria NLG
It has been nearly a century since John Maynard Keynes predicted that by 2030, the average workweek would be compressed into a mere 15 hours, turning the traditional nine-to-five into a breezy nine-to-12. Keynes prediction has obviously not materialised, and the current average isn't trending in the right direction.
In finance, it has reached a point that some have begun politicking for an 80-hour cap to account for sleep and other human needs.
However, the accelerating adoption of new technologies – from robotic process automation (RPA) to machine learning, natural language technologies (NLT) and other AI-fueled innovations – means these advances are finally yielding efficiencies that don't simply minimise costs, but also free up staff through "end-to-end" automation requiring no human intervention.
The benefits of these new capabilities are not always obvious. For example, investors may not realise the shareholder communications they study every quarter did not require a human analyst to put pen to paper; instead, it is possible that NLG automated the investment commentary.
Furthermore, technology's reliance on acronyms and jargon doesn't help operators understand the value.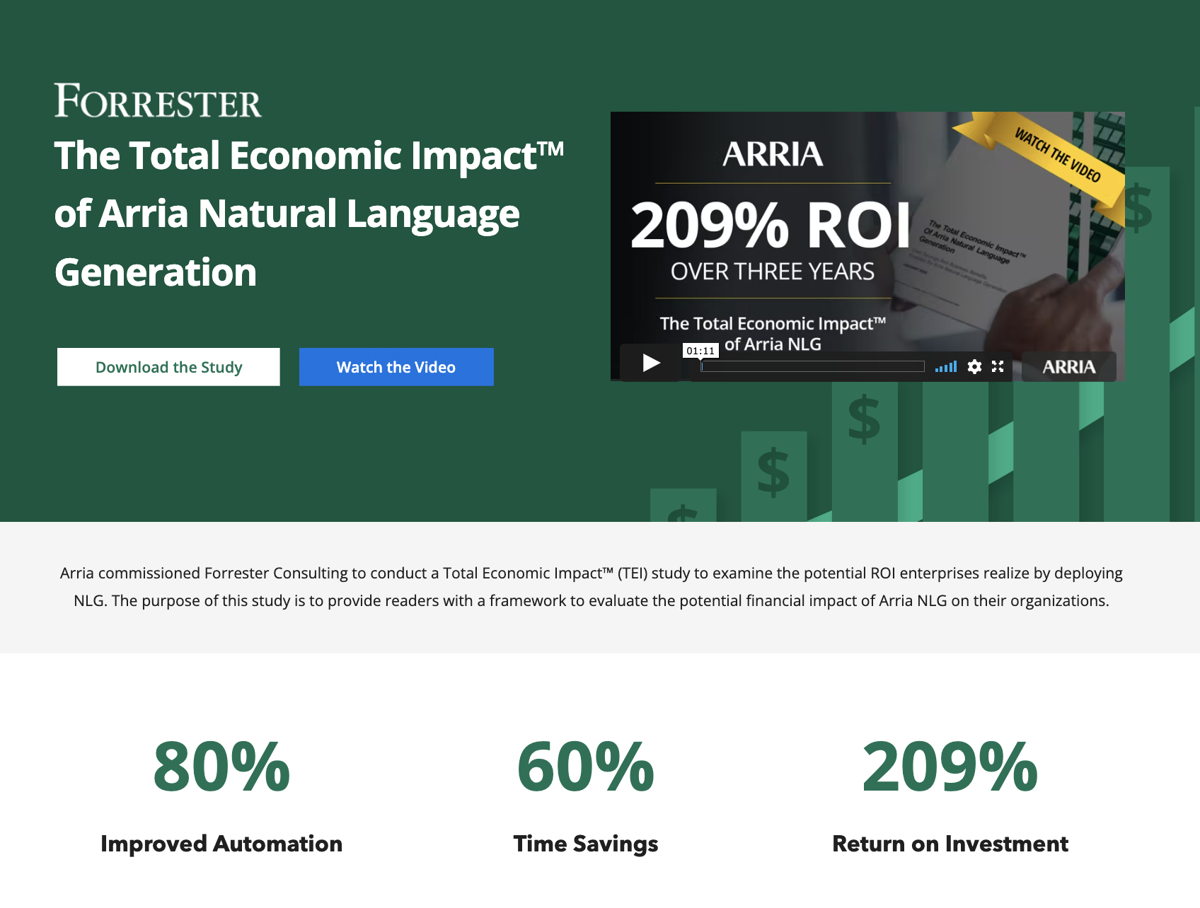 According to Forrester, NLG can reduce the manual labour of report generation by 80 percent, saving up to 60 percent in time spent by Business intelligence (BI) analysts and their supported decision-makers.
Further, intelligent automation removes any risk of human error in reporting and written analyses, increasing annual revenue up to 2 percent. NLG produces data-driven narratives that ensure reporting accuracy and improve operational efficiencies.
For fund managers and financial advisors, Forrester estimates that natural language AI reduces the manual resources required for written commentary by as much as 85 percent.
RPA, for the uninitiated, is software that builds, deploys, and manages artificial intelligence (AI) that interacts with digital systems and software. The technology can understand what's on a screen, complete keystrokes, navigate systems, identify and extract data, and perform a wide range of defined actions.
Natural language generation (NLG), meanwhile, is exactly what the name implies. It's a subset of AI that transforms data into natural language, replicating the human process of analysing and communicating data-driven insights.