Facebook's New Libra Cryptocurrency Helps the Company Diversify Away from Advertising
The following eMarketer story was reported by Amy He
After a year of rumors, Facebook confirmed its plans to create a financial system based off a new cryptocurrency called Libra. While the company derives a majority of its revenues from advertising, it's clear that Facebook has been trying to diversify its income, and this new digital currency—along with its new digital wallet feature Calibra—is the next step in executing this strategy.
Facebook will partner with 27 companies to oversee Libra and its development, with plans to launch the currency in 2020. The company is simultaneously launching Calibra, which will be integrated in Facebook Messenger and WhatsApp and exist as a standalone iOS and Android app. The digital wallet will let users save, spend and send Libra.
"Calibra will likely be how Facebook makes money off of Libra," said eMarketer senior analyst Jasmine Enberg. "But it's also a way for Facebook to expand beyond social media and into the financial world, which could provide new revenue streams beyond the transactional revenues generated via payments or ecommerce as well as its core business: advertising."
The social media company's ad revenues show that it's still extremely reliant on advertising as an income generator: Our figures show that Facebook's US ad revenues will grow to $28.52 billion this year, a 20.6% increase from 2018, and represents a 98.9% share of its overall revenues.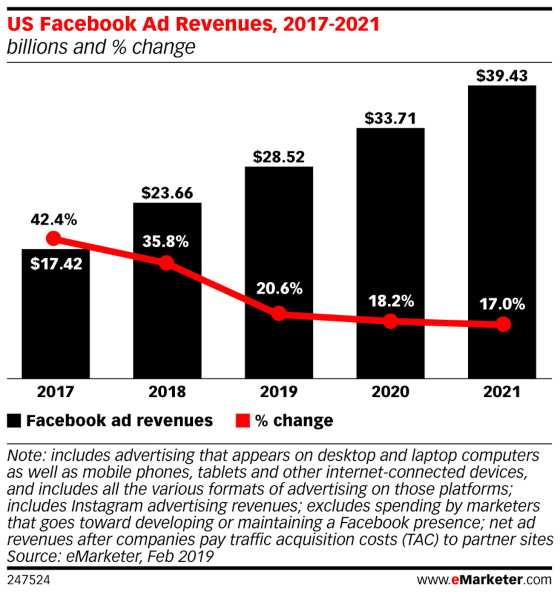 Worldwide, Facebook generated $55 billion in ad revenues in 2018, which will increase 22.5% to $67.37 billion this year. We estimate that its worldwide ad revenues will grow to $80.93 billion in 2020.
In its white paper on Libra, Facebook said that one of its main impetuses for creating Libra is to help serve the underbanked worldwide, and (READ MORE)