Can't Get Any Higher: A Blog on Growers and Cannabis Cultivation
Can Cannabis Cultivators Maximize Yields to Increase Profits?
The Cannabis industry is exploding with growth. Cannabis Cultivation has come a long way from just being about growing marijuana plants in small spaces, to large scale operations that are producing tons of cannabis every day. Cannabis cultivation technology has made this possible by optimizing the grow space for yield and production.
In this blog post, we will explore how Cannabis Businesses can use these techniques to maximize both their yields and profits.
Can Cannabis Cultivators Maximize Yields to Increase Profits?
Cannabis cultivation technology has made it possible for growers to take their cannabis crops from small scale operations run out of garages, basements and spare rooms, all the way up to commercial growing facilities with large grow lights taking up entire warehouses.
The legal cannabis industry is expected to grow at a compound annual growth rate of 30% from 2018 through 2028. Every five years, the market size doubles.
Anyway you slice it, Cannabis is maturing.
Of course, this means that there will undoubtedly be a cash-grab from short-term opportunists as cultivation moves into the limelight, but the true potential lies in the long term. Those who see the whole picture will be able to establish themselves for consistent, scalable development in years and decades to come.
There's still a bit of a do-it-yourself mentality in the cannabis business, with growers utilizing gut instincts and analog techniques. Spreadsheets, hand entry, separate databases, and a mishmash of tools and technologies that don't work as well together as they should are all holdovers from the unlawful days.
The ability to see everything at once is key to success. Cannabis production, like other sectors, necessitates a data-driven approach in which decisions are based on real-time information. To not only develop the most lucrative and highest quality goods, but also run your company as efficiently and transparently as possible, you must invest in a Cannabis Production Platform.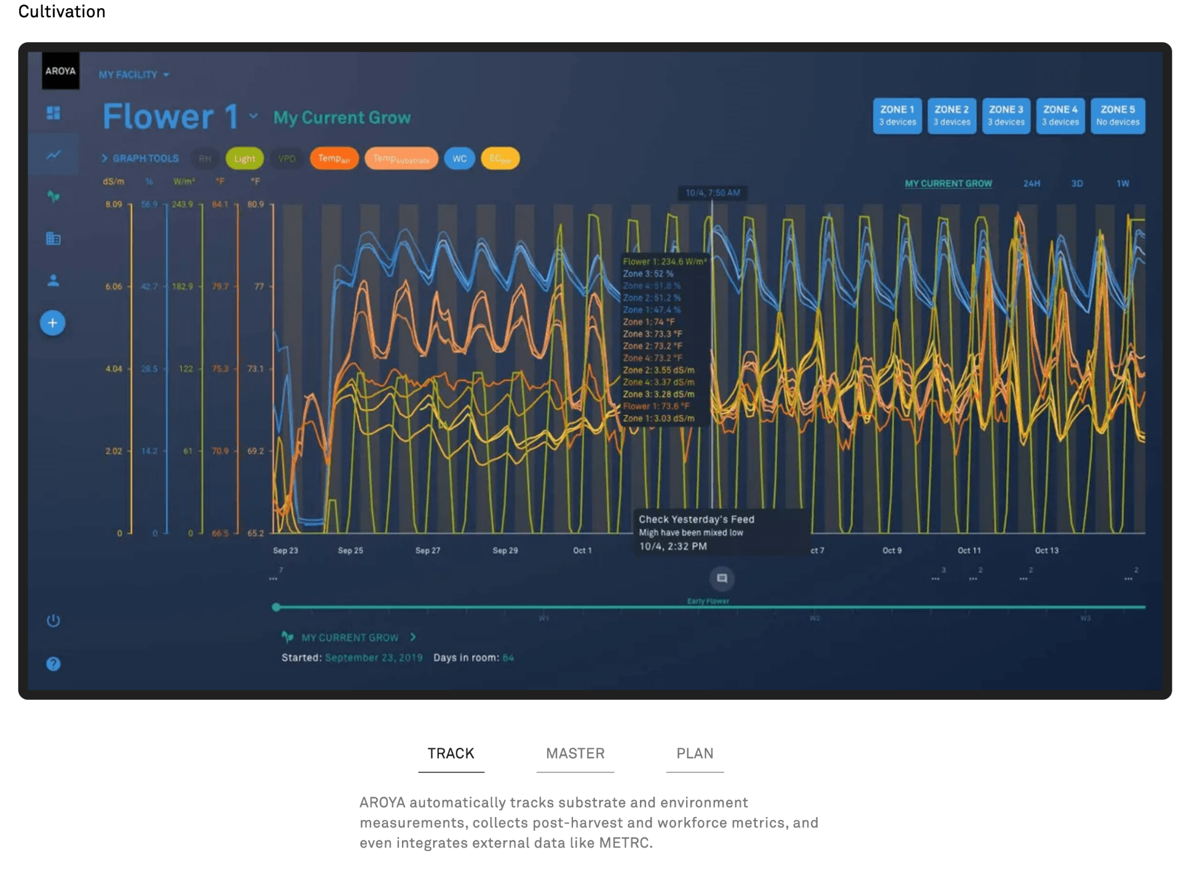 Read more about cannabis cultivation technology in Weed Street News
A Cannabis Production Platform (CPP) combines sensors, equipment, and software that provides commercial producers with historical data to help them understand the factors affecting performance, learn, scale, and improve operations.Growers boost their output per square foot per year, as well as make more money doing it more profitably, sustainably, and intelligently by taking data-driven action.
Yields will rise. There will be less variation in the quality of your crops.According to Aroya, "it all starts with precision sensor equipment that measures key metrics in your environment, substrate, tanks, pipes and canopy. All that data needs to be stored, reported on, and easily understood."AROYA's powerful software delivers these insights directly to your phone, tablet, or laptop. So no matter where you are, you can run your business the right way.
"Check out this guide on cannabis cultivation from Aroya to understand how a single solution containing these powerful lets commercial cannabis producers collect and organize data to improve yield on each batch.