Automate Hotel Telephony to Improve the Customer Experience
Hotels and resorts eat up a huge fraction of this $762 billion pie, but they have to work for it. This means providing a superior customer experience that encompasses every aspect of the customer journey – not just the literal journey to the hotel, but the buying journey that starts when a customer begins investigating which hotel to pick.
This is where contact center technology starts to show its worth. While many travel agencies and hotels have adopted an all-digital booking process, 20% of customers still intend to book their travel plans over the phone. In other words, hundreds of billions of dollars hinge on whether your hotel or travel agency can provide a quick and convenient experience when a customer calls.
Improving Hotel CX with Automated Telephony
Hotels and travel agencies have a dilemma when it comes to their contact centers. On the one hand, 20% of customers is a big deal – people who use the phone to book their travel plans can't simply be ignored. On the other hand, the number of people who use their phones – that is, they actually dial a telephone number as opposed to using a mobile app – to book travel is going to shrink every year.
How are you going to keep your phone-using customers happy in the near- to mid-term while realizing that there's going to be a lot fewer of them in the long term?
This is where automation comes in. Let's look at a few use-cases.
Inside Sales
First, let's assume that you're still using an inside sales bullpen to contact some previous customer and upsell them into repeat business. That's smart! Given that a diminishing number of people are answering their phones, however, you want to be able to cover a large customer base with a relatively small number of people.
In this case, an advanced automated outbound solution will act as a force-multiplier. Not only will this system automatically call people, it will engage with the CRM on its own, logging contact attempts, filling out forms, and even delivering pre-recorded voicemails. Since your salespeople don't have to pause before the call to bring up customer contact information or pause after the call to log it in, they'll be able to call more customers in the same amount of time.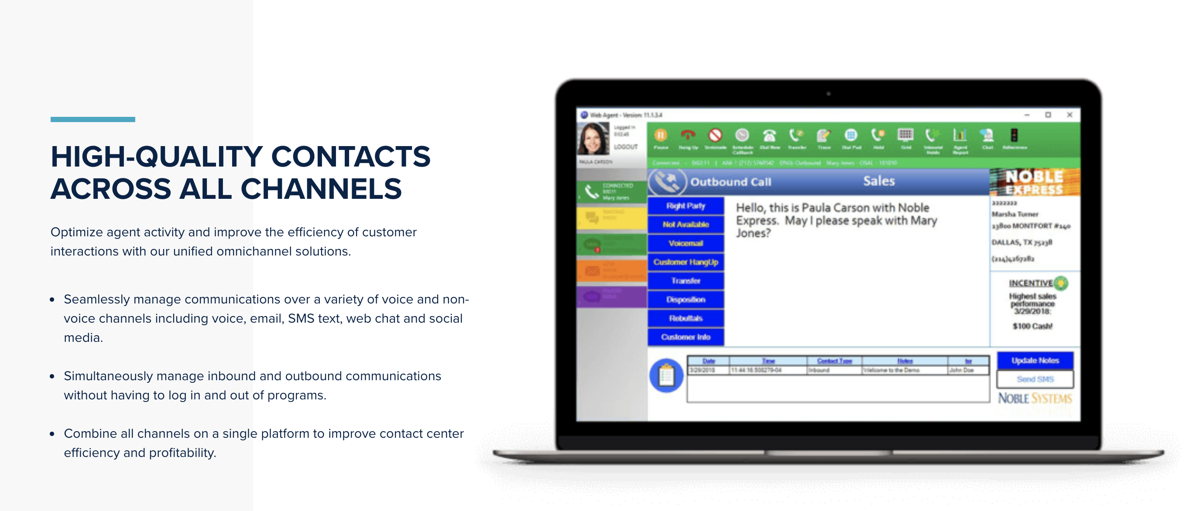 Contact Center
Even though most of your customers aren't using the phone to book hotel reservations, a larger percentage of customers will have questions about their room and whether they're able to get a complimentary continental-style breakfast. These people may or may not use the phone.
Once again, if someone calls to ask for information, you'll want them to talk to an agent as fast as possible – while still capping your overall number of agents at a relatively small number. Automation can help by pulling up a customer's contact information as they call it, which will shave precious seconds off each call. In addition, your contact center representatives will be able to see if the customer is calling in regards to an outstanding issue or if they have a new question.
All of this doesn't just help your contact center representatives help more people. It also helps those people feel more welcome. By providing a customized response to customer inquiries, your customers will leave the call feeling that much happier.
Streamlining Interactions from the Contact Center to the Hotel and Beyond
Lastly, any information that a guest shares with the contact center can and should be shared with the rest of the hotel organization. Over 70% of hotel guests want to have a unique experience during their stay – collecting information while you're on the phone with them means contributing to their desire for novelty.
With a manual data-collection process, you run the risk of customer requests getting ignored or distorted. If a customer calls into the contact center to make a request, and then has to repeat their question once they're at the front desk, you've failed.
Automation can help. Using everything from simple email to advanced sentiment analysis, automated contact center software can capture your customers' wishes and forward them to the appropriate parties with few humans in the loop. This means fewer opportunities for error – and more opportunities for your guests to enjoy perfect experiences.
1 - 2.4 billion
Lee Allum is vice president of marketing for Noble Systems, a global leader in omnichannel contact center technology. Noble's powerful technology solutions designed for the Travel and Vacation Ownership industry help you manage customer communications at every stage of the customer lifecycle. From customer acquisition to managing reservations and service issues, Noble can help you do it more efficiently than ever before.
Tens of thousands of agents at client installations worldwide use Noble platforms to manage millions of customer contacts each day. Noble offers a unified suite of inbound, outbound, and omnichannel contact processing, strategy planning, resource management, and compliance tools for companies of all sizes. The company's premise, cloud, and innovative premise/cloud hybrid platforms include ACD, predictive dialing, blended processing, recording and monitoring, IVR, messaging, interaction analytics, process automation, workforce management, and gamification.