Arria NLG Answers Demand for Data Analytics that Deliver Actionable Insights, Adds Two Industry Leaders
Pathfinder Solutions Group and Maistering join rapidly expanding partner community
Named a world leader in natural language generation technology by Gartner, Arria NLG continues its rapid growth, welcoming Pathfinder Solutions Group and Maistering to its rapidly expanding partner community.
When you're running a company, you need to be able to make strategic decisions quickly. Arria analyzes your structured data and describes it in human language. Specializing in the advanced form of Artificial Intelligence known as Natural Language Generation (NLG), Arria instantly converts multiple data streams into easy-to-interpret reports that are indistinguishable from the work of trained analysts—except by the volume and speed with which it is produced.
The insights contained within data are discovered and communicated in real-time for immediate action.
"Arria NLG Studio can convey actionable insights and tell your data's whole story," said Sharon Daniels, CEO, Arria NLG. "Our platform brings together language analytics and advanced mathematical functions for the specific purpose of turning data into insightful, actionable narratives that are relevant to the audience receiving the information."
One of many use-cases for NLG is corporate reporting, automating the generation of profit and loss statements, executive summaries and variance analyses. Natural language narratives augment data visualizations presented in business intelligence dashboards, clarifying insights with explanations in language anyone can understand.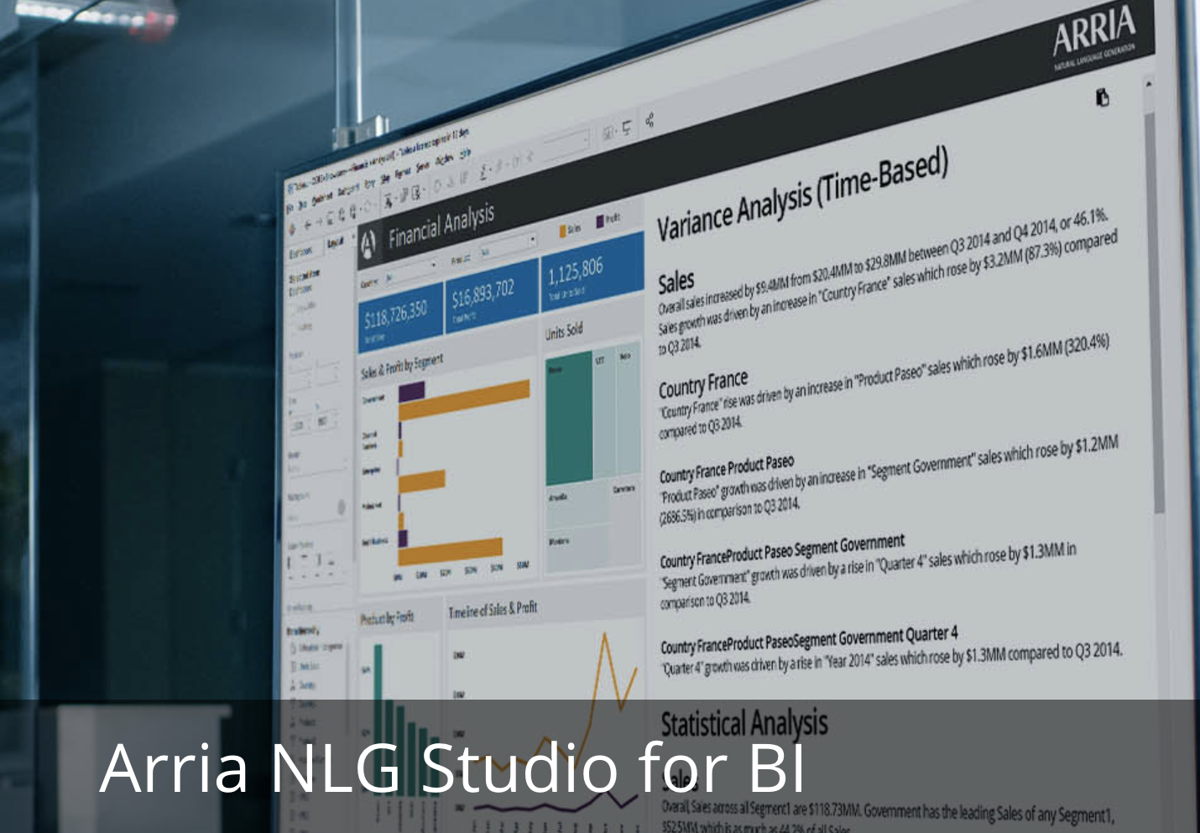 For financial planning and data analysts (FP&A), NLG eliminates reporting challenges by automatically analyzing structured data, identifying important and useful information and creating contextual narratives that are almost indistinguishable from analyses authored by human experts.
Again, the only disparity is that NLG gets this done in minutes, not days.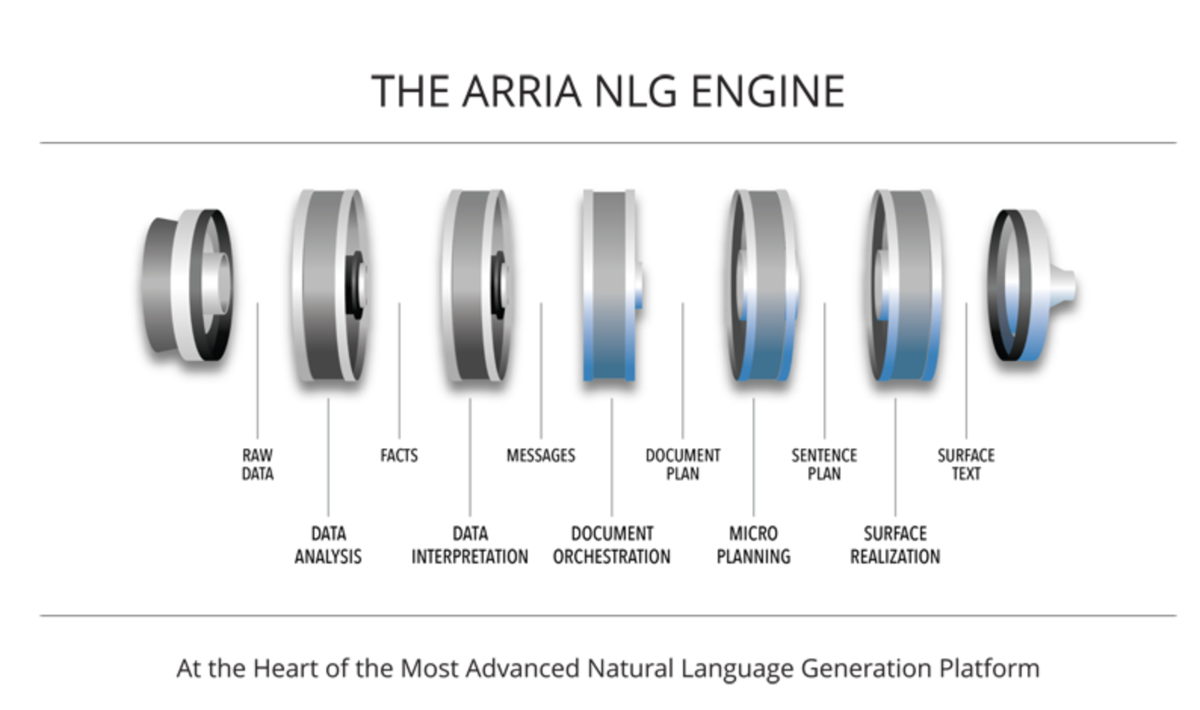 "Successful enterprises need ready-access insights that are as comprehensive as they are understandable," added Daniels. "With Arria NLG Studio, executives do not have to wait days or months for actionable insights that can improve organizational efficiency and profitability."
To deliver AI-powered solutions that meet the needs of enterprise executives, Maistering required an NLG solution that could integrate with its CXO Orchestration technology suite, Master Collections. Company executives recognized that users need tools to easily create narratives from both numeric and non-numeric information.
For Maistering customers, the ability to create custom narratives from complex data sets in real time delivers unprecedented value.
"Arria NLG complements data visuals with written narratives containing contextual analysis that convey data's full story."
With Arria's NLG technology already proven in crucial business areas, such as regulatory financial reporting, sensor data analysis, and business intelligence, its entrance into the cyber and operational intelligence fields is seen as a significant development in the military's and government's ability to deliver real-time actionable intelligence.
Through its recently announced partnership, Pathfinder Solutions Group (PSG) is bringing Arria's NLG capabilities to US Department of Defense and Government agencies.
Current gaps in information analysis result in suboptimal decisions with potential detrimental impacts. Speed to decisions is critical when reacting to high-value targets and cyber threats. Data analysis—the ability to interpret and understand the data, get it into a useable format, and mine the data for hidden insights, continues to be a challenge—especially in warfighting situations.
Arria NLG's platform dramatically improves time from analysis to insights to decision by expressing complex data and information in real-time, insightful narratives—making big data…smart data.
The expert narratives produced by Arria's breakthrough NLG technology ensure critical facts and insights are presented in a more comprehensive and understandable way, as if written by a team of the best subject matter expert analysts. These reports can be detailed and able to break the data down in multiple ways, or they can be simple, concise, ACTIONABLE one-page decision brief for commanders or agency chiefs.
The real-time reporting generated by Arria NLG ensures that critical facts and insights are clearly articulated and can be customized based on the threat intelligence and the mission.
NLG narratives that augment data visuals are paramount. For even the most tenured and savvy specialist, manually mining underlying data to create these analytical narratives is both time and labor-intensive.
The ability to drill down into data and accurately identify trends, patterns and projections enables business leaders to make informed decisions. Organizations across the globe have recognized the need for readily available insights and as such, leverage NLG to extend the reach of real-time data analytics.
Simply put, NLG Narratives provide a clear line of sight into your data's full story – and conclusions.
Learn more about Arria by visiting www.arria.com.